TechRules is a leader in digital transformation for wealth and asset management, a leading consultancy service and a wealth management software provider for financial entities. We develop modular, scalable and APIfied technology to solve specific customer's needs. We provide WealthTech expertise for business automation in financial entities based on AI and according to regulatory requirements. In our website (www.techrules.com), you can find a full outlook of our work in AI, gamification, sentiment analysis and other fintech fields.
What sets you apart from your peers this year?
Our main advantage compared to our competitors is our ability to adapt quickly to any kind of developments. We have consolidated a position as very specialised provider in modular, white label and scalable solutions. This is part of our success, because our modules and APIs are easy to integrate in any platforms with a wide range of compatibility and very low degree of errors.
Last year, we focused our work in powerful financial planning modules linked to AI and machine learning. We also applied blockchain for financial entities, as a first step of a technology that has a long future in this sector.
Finally, we profit from our long experience, because in these 25 years we have developed solutions to cover all kind of tasks, products and services. Our platform Tower has been updated to integrated new APIs. We have applied cutting-edge technologies for robo-advisors and tools for self directed investors. Additionally, we have consolidated our services to create model portfolios and fund factsheets automatically. That means, a financial company can cover all their demands with us.
How have your colleagues contributed to the success of your organisation?
TechRules is impossible to understand without my colleagues and the full company staff. TechRules is human knowledge applied to finances and new technological developments in this field. The whole team is committed with the company goals and the clients, they are competent, trustworthy and always ready to learn and improve. They are key for our success.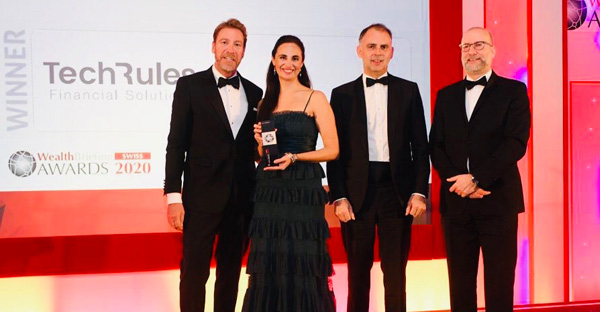 What will you do to keep to the standard of an award-winner and push ahead in the future?
We cannot say that we expect changes in the sector. When you say fintech, the word "change" is included in the meaning. Change is part of the sector in products, services, technologies, assets… Taking this point into account, we consider that we are ready for the immediate 5 trends to focus:
Regulation and customer protection, as they are more complex and harder to comply.
Full digital experience, in order to be more user-friendly, accessible and easy to understand.
Aggregated financial planning to apply AI and obtain more scalable results.
Real-time communications to differ from competitors, as you provide a specific personal attention to final customers.
Easy adoption of solutions per entity: combining standardization to optimize implementations and processes with tailored solutions to provide a personal imagen and strengthen the company brand.
Listening is a word that everybody uses, but only seldom applies. We apply it always, because listening helps us not only bringing the best solutions, but also detect future trends. That is the best way to adapt continuously in this competitive changing market.
Additionally, we invest a lot in R&D on a yearly basis. We have recently invested in SaaS, PaaS and APIfied all our solutions in a very short term, actually, less than a year.
What have the challenges been in obtaining excellence?
The main challenge is staying always at the top of the industry and growing further. That is only possible with a historical background of success and a competitive well-trained staff. Fintech companies asks for very professional profiles ready to develop tailored state-of-art solutions. It is not easy to begin in this sector. That is why we are proud of delivering knowledge for our clients, because that is the key to solve any challenge.
Specifically, we will keep on working on our high-standard API Financial Management Marketplace and improve the full set of solutions: Advice APIs, Generic APIs, Portfolio Analytics, Model Portfolio and Investment Tools.
Whom do you look up to for inspiration and examples to emulate and compare yourself against, either inside or outside the wealth management industry?
It is incredible how the industry changes with the democratization of investments through the robo advisors solutions and other very similar. Just to mention some of the more interesting because of their developments or their business model: Revolut, Monzo and Nutmeg. They have pointed new ways in user experience and full functionality on mobile devices.
What do you hope will be the main consequence of achieving this accolade?
This kind of achievements are like fresh air, because, somehow, they report that you are doing something right and your customers will also perceive that their bet for us was right, too. It has been more that 20 years to reach this point and we can proudly say that we have performed powerfully this time. Additionally, this award is second to none, as WealthBriefing has a very relevant position in the market.
What do you hope will be the main consequence of achieving this accolade?
We will explain our clients that this accolade is the result of a continuous commitment with the projects in which we work for them. It will help us strengthen our brand marketing, as the award supports that we are innovative, trustworthy and competent to develop the best solutions for financial companies and professionals. It will also help to broaden our customer portfolio, as we will be able to report that we were awarded by one of the most relevant prizes in the sector.
See original blog: https://www.techrules.com/staying-top-fast-digital-trends-techrules-excels/
About TechRules
TechRules is a leading consultancy and wealth management software provider for financial entities, focused on the digital transformation in financial services. For more than 20 years TechRules has developed cutting-edge modular and scalable solutions for the whole financial sector: retail and personal banking, private wealth managers, fund managers, IFAs and family offices. TechRules's flagship solution is Tower: a global comprehensive platform built up with APIs to respond to any final customer demand and to any management process.
#wealthtech #digitalizationofwealth #financialadvisors #advisorclientengagement #clientengagement